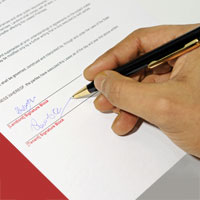 A real estate lawyer can safeguard your interests and protect you from substantial financial loss whether you're buying or selling a home. The complexities of real estate law may make transactions perplexing for laypeople, from consumers buying a home to enterprises buying commercial space.
If the contract isn't structured properly while buying a property, you may find yourself committed to acquiring a misrepresented building or piece of land with no recourse.
Some Key Points to Consult a Lawyer while Buying a House:


Property legal services in Hyderabad are a group of attorneys who are specialists in dealing with property-related issues. They are knowledgeable about property laws and have the ability to deal with a variety of problems. You can employ Property legal services in Hyderabad for document preparation, new property registration, petition filing, sale/release deed registration, legal counselling, and a variety of other services. You can engage a property lawyer to handle concerns such as these.
• Illegal Possession occurs when you own immovable property (land, office, or building) and someone occupies that space by illegitimate means such as coercion or fraudulent paperwork. You can employ a property lawyer in this scenario and sue them for wrongful possession.
• Construction Issues: The builders and the property owner sign a contract. You can take legal action if the builder utilises low-quality materials or fails to provide possession on time. For legal actions, you might seek the advice of a property lawyer.
• Transfer of Ownership: If you want to transfer your property's ownership/rights to someone else, you must follow legal procedures. A property lawyer can assist you in understanding the procedure and creating the registration documentation (sale deed/gift deed).
• Tenant Issue: If you are a landlord who has rented property and the tenant is not paying the rent, refusing to vacate the property, or causing damage to the property, you can sue them. A property lawyer might assist you in drafting a suitable contract.
• Purchasing/Selling/Renting Property: If you are intending to purchase, sell, or rent out your property, it is critical that you do it correctly to prevent the concerns mentioned above. It is critical to follow property rules and complete legal requirements. Property attorneys are the experts that can help and advise you in these situations.
• Landlord Issues: If you are having problems with your landlord and believe that you are being exploited by him despite having a documented agreement, you can seek the assistance of a property lawyer. The lawyer would inform you of your rights as a tenant and assist you in exercising your rights and filing a claim for your damages.
Points one should consider before hiring Property legal services in Hyderabad:
You can employ a property lawyer for legal processes whether it is a purchase or sale of property, unlawful possession, or any other matter involving the property. However, before you engage a lawyer, you should consider certain vital factors, like as
• The property lawyer's experience
• Type of problem
• The lawyer's fees
• The number of cases handled by the lawyer
• Modes of communication, as well as a slew of others
A real estate attorney helps ensure that the contract protects your interests. For example, a lawyer will make sure that there is a clause in the contract that allows you to back out if the home you're purchasing passes an inspection - something you would not know to ask for without legal help. A real estate lawyer can also look for hidden fees or stipulations that aren't typical of most real estate transactions.